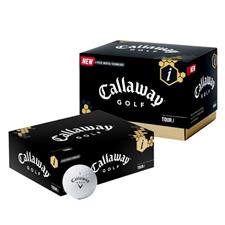 The guys over at GolfBalls.com are having a great  promotion on Callaway Tour i balls.  Right now, if you purchase a dozen Callaway Tour i or ix balls, you get a free Callaway Tour i Free 6 Pack.
That's 18 balls for the price of a dozen.  I don't play these balls regularly but my Dad does, so I ordered a couple dozen for his birthday at the end of the month.  He'll be stoked (but I may keep one of the 6 packs to try out for myself)
If you want, for an extra couple bucks, you can personalize these balls too and get your fancy "Big Jim" monogram or whatever nickname you like to have on your ball.
I don't know the exact end date of this promo, but I'm sure it won't last too long.  So if you play premium balls, best get over there and get some while you can.
Free Callaway Tour i Balls at GolfBalls.com